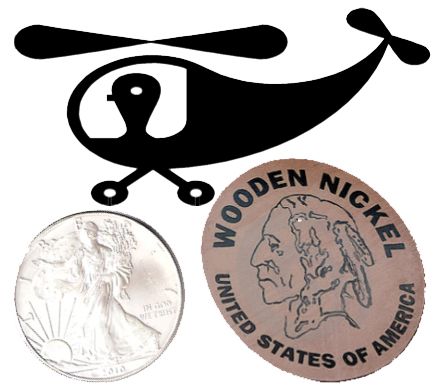 I'm going to buy some real money today.
It's something I do most weekends.  I visit my local coin dealer and buy a few 1 ounce pure silver rounds.  And it's something I kind of enjoy doing, too… it always gives me a feeling of satisfaction when I'm done.
Because I know I've made a good long term investment.  And I've beaten Helicopter Ben at his game.  You know, Ben Bernanke, the head of the Federal Reserve who's known to have said he could drop money out of helicopters to stimulate the economy.
And then there's social aspect of the transaction.  I always kid the coin shop owner as I pay him for the real, hold in your hand silver – as I hand him paper dollars.  I tell him I feel bad about trading him worthless pieces of paper for silver.  And he good-naturedly listens to this every time.  It's a standing joke we have.
But I don't feel that bad – certainly not bad enough to stop.  It's the federal government who should feel bad about foisting their worthless pieces of paper on us in the guise of money and something of value.
After all, this type of activity is normally called counterfeiting.  Except when the government does it, of course.
Now you may think I am being overly harsh in my criticism, but read on because I'm going to support this with a story about how machines used to be smarter than counterfeiters, an interesting man named Merrill Jenkins, detecting and preventing counterfeiting, how he was duped by a federal agent, and the Read the rest of this entry »