Confused About The Stock Market And Running Out Of Time?
Recent research has uncovered that the Baby Boomers may be the first generation unable to retire — read on so this doesn't happen to you



Dear Reader,
Perhaps like many people you have this vague, uneasy feeling that you should know more about stocks and investments.  And that you should be doing something about them – and soon.
Your gut instinct is right about this one.  Recent research has uncovered that the Baby Boomers may be the first generation unable to retire and you don't want to be left behind.
Or maybe you've just been puzzled when people talk about investing in stocks – perhaps at a party or with friends – and would like to know what they are talking about.  You've even felt a little bit self conscious or embarrassed about that.
Or you've tried to read up on the subject, only to get totally lost in confusion and frustration because everything seems so complicated and technical.
Or you've given up and decided to use a stockbroker, only to completely not understand what they are telling you either.
Former Financial Consultant and Stockbroker John Roberts spells it out for you in a breakthrough, easy to understand way
A Book Unlike Any Other
Well, set your confusion and frustration aside.  Because in Stock Investing For Beginners we have the answers for you.  And we do it in a special way.
First, we introduce the subject areas to you in terms you already know and understand. That's a breakthrough idea.  Let me show you with a quick example.  You know what an auction is, right?  Well, did you know that the New York Stock Exchange – where you will buy many of your stocks — is just a big auction?
See, you already have a clue about stock exchanges.  Because we introduced the idea with something you already understand.  An auction. And we did it in one sentence.  Because we wrote the right sentence.  We thought about what you already know before we started explaining.  Then we built on that.
It takes skill and effort to write in this manner.  That's why you haven't run into it before.  But that's one of our specialties at Live, Learn And Prosper.
Knowledge is Power – And Results
And I show you with real examples …
Like how I made 1400% in a matter of weeks on a Junior Gold Mining stock.  That's right – 1400%.  Of course this doesn't happen all the time.  But it will never happen if you're not in the game.  And don't know how to find these opportunities.  And don't know what to do with them if you did.  I show you.  In a simple, easy to understand way.
Or how about this one …
It's a little known investment type you can buy that has been paying me 20% dividends – and grew from $10,000 to $28,000 in just eighteen months.  By the way, it's still paying me the 20% dividends.  These unique investments get special government treatment – there are only about a hundred of them out there among thousands of stocks.
But you have to know about them and how to find them.  And you have to know how to trade them.  I show you that too.  Again, in a simple, easy to understand way.
Or how about stocks in the banking industry?  How do you feel about banking and their paltry savings account interest these days?  I know of two that pay more than 15% dividends right now as we speak.  Maybe if we can't beat them, join them, yes?

I could go on but you get the picture I'm sure.  You need someone to explain stock investing in simple terms, and point you to these opportunities.  You need basic knowledge and a plan, a method.  This greatly increases your odds of success.
Just What You Need To Know And No More
In Stock Market For Beginners I outline a basic, step by step plan on how you get set up, choose your stocks and protect your investment. I keep it simple and stick to trading stocks and stock based products.  Nothing else.
And I show you just what you need to know and no more.  You don't need to know everything there is to know about automobiles to drive your car well, right?  And you don't need to know everything about the stock market to invest well either.  You just need to know some key information.
There are only ten (10) key steps you need to know and do.  Actually it's only nine (9) because the tenth one is where I say, "Have fun with it and be proud.  You are a special person that has chosen to take charge of your financial life."
Because you will go from confused to proud, uncertain to having a plan, from that vague uneasy feeling to feeling in control.  I even throw in a little known fact or two that you can just casually drop at your next party.  So you go from feeling a bit self conscious about the subject to someone in the know about a thing or two.
And finally, you'll know how to uncover promising investments like I do.  No mumbo-jumbo waffling recommendations.  I'm talking easy to understand straight talk that says "Buy this specific stock at this price now." And you're on your way.
You can read the book at your own pace and start investing with a little money or a lot.  Because we will take this one small step at a time.  You and I.  Together.  And to give you some encouragement up front, I want you to remember — the greatest investors in the world started where you are today.  Even Warren Buffet, one of the wealthiest, most successful investors in the world, started where you are right now.
So relax and set your frustrations aside.  Because with your effort and our method – you can do this!
What Satisfied Customers Are Saying
The copy is easy to follow and conversational – perfect.  The format looks great and I like the analogies you use – the "Money Machine," is my favorite.   Keep up the good work.  Jason H.
I read your book and I love it!  It is so easy to understand and it kept my attention all the time I was reading it.  Congratulations!  I believe it will be a success.  Have a great day today.  C. Stewart
The book is so easy to read — I blew through the first third of it in one sitting.  And understood it.  And learned a lot.  I've opened an account, consolidated my 401k's and put on my first trades.  My wife wants to read it when I'm done.  I will definitely recommend this to my friends.  John S.
What You'll Receive – Immediately – No Waiting Around
As soon as I hear from you you'll get an immediate download of …
#1. Stock Market For Beginners, an easy to understand and read book on how to invest in the stock market and increase your odds of success by trading like professionals – a $47 dollar value.
#2. A ten step chart summarizing the key steps to achieve success – a $10 value.
#3. Top ten list of THE BEST sources to uncover great stock trades.  This is how I uncovered those great investments I showed you above. It's really hard to put a price on this one – I'll low ball it at $17.
#4. A Trading Journal to track your stock investments INCLUDING the simple formula to limit your losses and let your winners run – a $10 value. Many successful investors keep a trade journal.
#5. Free subscription to the Live, Learn and Prosper Newsletter, a $27 value.
That's a $111 value you can have in your hands right now.  You're just one mouse click away.  And I have a special price just for you if you order by the end of September – after that the special price will end.
Test It On Your Own
By taking advantage of this opportunity today you are agreeing only to TRY my book on for size to see if it's right for you.  You'll have the next four (4) months to review everything described here.  If I've gotten the facts wrong in any way … or if you simply decide my book is not for you, just let me know, and you'll receive a FULL REFUND.  Keep everything you've received, my compliments.
An Investment In Success
I can't promise you that success will be instantly yours if you buy Stock Market For Beginners.  But I can guarantee you will find it interesting, easy to understand and useful.  And if you follow each of the ten steps you will greatly increase your odds of success.
Sincerely yours,

.
P.S. Oh, I almost forgot – I'll throw in the names of the two banks currently paying over 15% dividends – FOR FREE.
YES JOHN!  I would like your book to help me get started down the path as a successful stock investor and take control of my financial life.
Please send me a copy of Stock Market For Beginners for only $27 –practically HALF-OFF the regular price many others have paid.  I understand I'll receive everything else detailed above for FREE, and that I'll have the next four (4) months to change my mind and get a full refund, if I wish.
.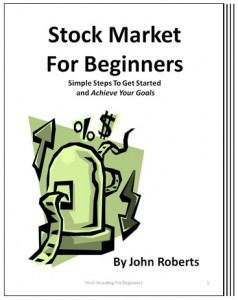 .
.
.
.