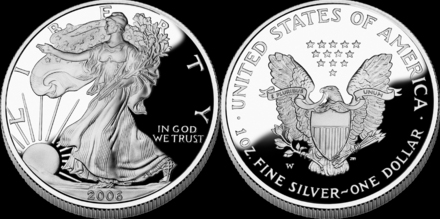 I mention in an earlier post that you can start investing in silver for just three dollars by buying Mercury dimes – actually any dimes minted before 1965 including the Roosevelt dimes – see http://livelearnandprosper.com/start-investing-for-one-thin-dime.
There are many practical reasons to invest in these junk silver coins.  One is that they are universally recognized because they are currency produced by the U.S. Mint.  There are other practical reasons as well, which we will explore in a future post.
But these coins are kind of plain in my view.  So, while they are a smart and affordable investment, there is another silver coin investment I get much more excited about.  It is silver rounds.
Silver rounds are essentially bullion, just like silver bars.  They never were currency to begin with.  They are created by silver miners and various world government mints.  And some of them are outright beautiful.
They are one ounce of pure silver – .999 pure.  There's something really nice about looking at them and feeling their weight in your hand.  And unlike gold, which is going for around $1700 an ounce, sliver is currently going for about $33 an ounce.  So one of these coins is still quite affordable.
You can buy them at your local coin dealer.  He has to eat, of course, so he will add a few dollars commission to the price.  But it's worth it for the convenience of just walking in the coin shop, handing over your money and walking out with one of these beautiful coins.
One of my favorites is the American Silver Eagle, pictured above.  Since they are minted by the U.S. government, they carry a premium markup.  I recently paid $38.25 for one when the price of silver was $33 an ounce.  But everyone will recognize them as minted by the U.S. Government, so their authenticity will not be questioned.  That makes the premium worthwhile in my mind.
Another favorite of mine are the Canadian Silver Maple Leafs.  They are a bit cheaper on premium, and get this.  They are not .999 pure –  they are .9999 pure silver.  I love these coins and always ask for them.  However, many times the coin dealer doesn't have them, so I buy the American Eagles.
You might want to consider buying some of these silver rounds as part of your overall investment plan.  There are credible predictions silver could go to $50, even $100 an ounce in the years ahead.  And while there are no guarantees on any investment, there's good reason to think they are a good investment.
And they are beautiful, so you get a nice aesthetic payoff too.
So go to your local coin dealer and check one out.  I have a feeling you will be coming home with a silver round or two in your pocket.
To your health and prosperity – John