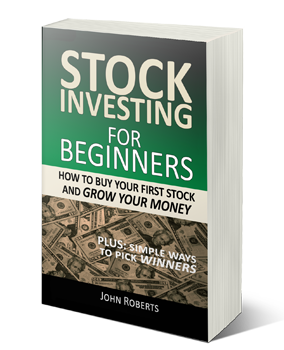 Do you  know what most wealthy people have in common?  They own businesses.  And every day, the employees of their business work to increase the owner's wealth.
But you probably don't own a business.  And don't want the complication and expense of starting one… and running it.
But there's another way.  Because buying stock in a company is the easiest way to own a business.  And you don't have to do any work.  Because the companies employees work every day to increase your wealth.  And as a business owner, you share in the profits they create.  This is clearly how some people have built fortunes over time.  And you can too.
Written in an easy to understand, conversational style, this book will show you just what you need to get started.  And by the end of the book, you'll be able to buy your first stock.  And start on your path to wealth and success.
To learn more about how to get your share of company profits, and start building your wealth, you'll want to check out my book Stock Investing For Beginners.  You can browse through it for free right here.
It's your future – so don't delay.
~~~~~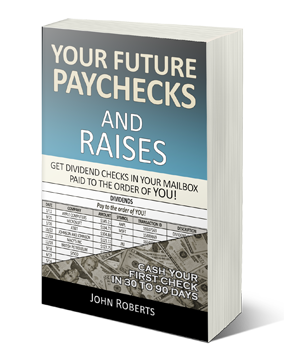 You can get your  first monthly dividend income check as soon as 30 days from now – without having to work for it.
All while millions of people are struggling with their financial future in today's  investors market.  Many are still burned and discouraged from the great recession, or fear of the next one.  And dwindling wages and near zero interest rates, which pose a daunting threat to their financial future.
But whether you are a retiree, or someone building their future nest egg, investing in dividend stocks is the near perfect, easy to execute approach to getting and increasing income.  Income that you don't have to work for.  It represents a time tested, low risk approach to much higher returns.  And repeatedly getting dividend checks in your  mailbox every 30 to 90 days.
As a former financial consultant and stockbroker, I explain how you can use these special stocks to begin creating your future paychecks and raises, starting today.  This is no high-flown, complicated theory.  You can get your first check in 30 to 90 days.  With more to follow.
In this practical, step by step guide, Roberts, founder of LiveLearnAndProsper.com,  gives you all the information you need to successfully invest in dividend stocks and attain long term financial freedom.   He explains why dividend stock investing is the only long-term strategy that actually works, and offers a comprehensive plan for achieving real financial stability.
You can create wealth and a future income for yourself, investing like this.  Dividend income that feels like paychecks – that you don't have to work for.
Just check out my latest book, Your Future Paychecks And Raises: Get Checks In Your Mailbox Paid To The Order Of YOU!  You can browse if for free right here.
Go ahead, check it out.  You'll be glad you did.  Just click here to browse it for FREE.
~~~~~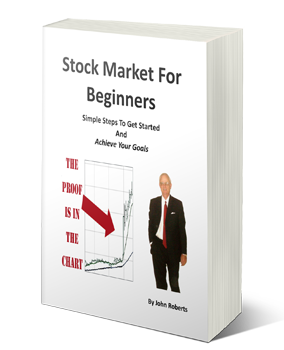 Take control and boost your financial future with this beginners guide to stocks and investing that really is simple and easy to follow"
John Roberts, Former New York Stock Exchange Licensed Broker reveals ten simple rules to investment success"
Is your retirement looming as the days slip by ever more quickly?
If so then a study conducted last year by the Center for Retirement Research at Boston College should be of concern.
Printed in the February 19 2011 issue of the Wall Street Journal it said:
"the median household headed by a person aged 60 to 62 with a 401(k) account has less than one-quarter of what is needed in that account to maintain its standard of living in retirement".
My book Stock Market for Beginners will help you make sure you're not one of those households.  And you can browse through the book for FREE right here.
It's your future – so don't delay. The quicker you get started the more time you'll have to maximize your investments. Do it now – before something else gets in the way.  So go ahead, and check it out right here for free.
~~~~~
Privacy Policy & Disclaimer