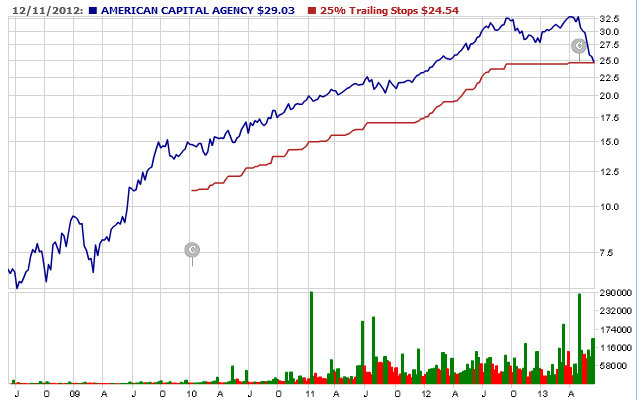 Here's a great example of the value of using trailing stops.
Take a look at this chart.  It's for a stock, American Capital Agency (AGNC) that I've been invested in since 2010.  It's been very profitable.  But it has now gone below the trailing stop, so I will sell it today if it doesn't turn around.
But I will be selling at a profit — even though the stock has gone down.
Much more on this later.  And I'll let you know what I did today.  Did I sell or hold.  Did it recover or not.
To your Health and Prosperity – John Roberts
P.S. To learn more about stock investing, check out my latest book Stock Investing For Beginners.  It's written in a simple, easy to understand, conversational style, and full of more profitable stock investing tips.  You can browse through it for free right here http://a.co/0kJOvww.