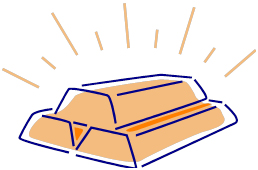 One of the main objections to investing in gold is that it pays no dividend.  And the same can be said for many gold stocks.
Which puts us in a quandary as investors.  Because indications are that the price of gold could go up in the future as the value of the dollar continues to erode due to inflation.  Indeed, the price of gold could suddenly move up very rapidly like we saw over the past year.
And gold stocks have historically moved up even faster than the price of gold when this happens.  And here's the biggest part of the quandary.  That is that gold stocks are at their cheapest level in over ten years.
No one seems to want to touch them.
Which is typically when we, as smart investors, want to get in.
The good news is that the gold stock dividend dilemma is starting to change.  A number of gold stocks have started paying dividends, and some are even raising their payout rapidly.
One such stock that I have my eye on is Barrick Gold.  Barrick is a Canadian gold producer.  And they just announced a quarterly dividend of $.20 a share, which as of this writing is a 2.03% yield.  This is a respectable yield for any stock, and certainly pays more than most bank savings, CD's and even some U.S. Treasuries.
But here's where it gets interesting.  This was a 33% increase over its prior payout and a 67% improvement over the dividend paid during the same period last year.  So if the price of gold does indeed start moving up in the future, they very well could keep raising the dividend.
Even if the price of gold stays the same, or drops a bit, we are being paid to sit patiently and wait.
And the stock price is down, so we can buy in at a bargain price.  Just check out the chart below.


So let's sum this up.  We can buy a gold stock cheap.  It pays a decent dividend right now today.  And the dividend may well increase.  And historically if the price of gold goes up, the stock price could move up even faster.
I'm scratching my head right now, wondering what's not to like about this situation.  And maybe you should be too.
To your health and prosperity – John
P.S. Now don't go crazy and load up on this stock.  Keep to a small position size.  Because gold stocks can be pretty volatile.  But I'm thinking to stick my toe in the water here, and may put in a couple of small low ball bids as well.