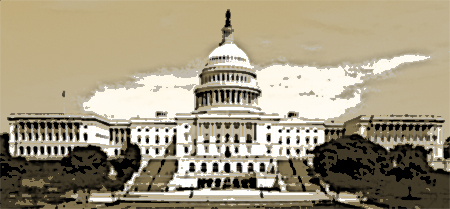 Some of my favorite dividend investments will pay you exceptionally high yields.  I find it most gratifying to see their outsized dividend payments show up in my account, quarter after quarter, year after year.
And you will too.
Because high yield dividend paying investments really build up your account.  You can see real wealth and income effects from them.
Government Properties Income Trust (NASDAQ: GOV) is one such high dividend payer.  As the name implies, they own properties that they rent to the government.  And as of this writing, they own 93 such buildings, located on 73 properties.
Now, there isn't much in life that's guaranteed.  But here's a pretty safe bet you can make.  And that is that the government will continue to grow and spend more money!  And probably rent more office space.  So Government Properties is doing business in a pretty good space.
Now Government Properties is not a typical dividend paying stock.  Rather, it is something called a Real Estate Investment Trust – often referred to as REITS.  A REIT is a company that owns, and in most cases operates, income-producing real estate.  And REITS have been around for quite a while.  The law providing for them was enacted by Congress in 1960 to provide a real estate investment structure similar to mutual funds for stocks.
But don't let all of those technicalities make your eyes glaze over.  Because for your purposes, Government Properties trades just like any other stock that you're used to.
For example, Government Properties has a stock symbol (GOV), just like any other stock.  And you enter that symbol into your trading account to buy and sell it, just like any other stock.  Then it's bought or sold in seconds on the market, just like any other stock, and unlike most mutual funds that only execute at the end of the trading day.
And it pays you quarterly dividends.  Just like most dividend paying stocks.
So for your purposes and mine, it's pretty much a dividend paying stock.  So much so, that I call these "stock-like" investments.
But these stock-like investments come with some great advantages over typical stocks.  The first of these is that REITS usually pay out higher yields.  And Government Properties certainly does that.  Their whopping 9% payout is an exceptional yield in today's low interest rate world.  Just compare that to the average dividend stock yield of 2% over the past three years (S&P 500) and you'll see what I mean.
Another related advantage is they're motivated to pay you this big yield because of a special government tax provision for REITS.  It allows them to NOT PAY ANY TAXES if they share out at least 90% of their taxable income as dividends to their shareholders.
That has a pretty nice ring to it, doesn't it?  They pay no taxes when they give you virtually all of the profits!
So for that reason, I've kept a modest investment in GOV off and on for years.  And as of this writing, I'm currently invested in them.
Another important reason is that they've consistently paid that big dividend.  As you can see from the chart below, they've been quite steady and reliable.  Now, they did cut their dividend back in 2009.  But not too much, considering the carnage that was going on during the real estate and stock market crash at the time.
And the dividend has been recovering gradually from then as well.  So GOV seems to be a reliable dividend payer.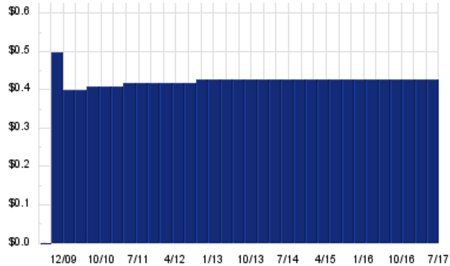 Chart courtesy of DividendChannel.com
For anyone thinking to invest in Government Properties, another consideration is its stock price.  And as of this writing, GOV is in my sweet spot for that as well.
While I buy stocks in all price ranges, I prefer stocks that are around the $40 range – more or less. So at $18 a share, GOV fills the bill.
And I prefer to buy stocks that are not at their all-time high.  Because I would rather buy them at a lower price where they may have some room to grow.
Now, I don't own GOV for growth, but still, it's always good to heed the old maxim of buy low / sell high.  And looking at the stock price history, GOV seems to be reasonably priced.  It's currently in kind of a Goldilocks price range – not too high and not too low.
So buying at this price wouldn't seem to be overpaying for the stock.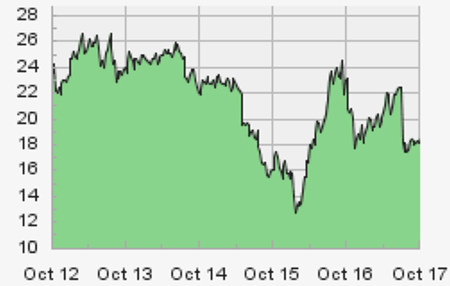 Chart courtesy of DividendChannel.com
Finally, no matter how good the business story, all investments carry risk.  There are two main risks with REITS.  And they are interest rates and property prices.  Since REITS typically borrow money to acquire new properties, rising interest rates can be a factor.  And trying to expand by buying new properties in a rising price environment is another factor.  Or the opposite – unloading a less productive property in a dropping price environment.
All that said, REITS have been historically stable with the exception of the housing bubble.  And they are widely held by pension funds, insurance companies and bank portfolios.
So that's further proof of stability.  But like any stock-like investment, anyone owning GOV should sell it if the price drops by 25% from their purchase price.  Or to be even more defensive, if it drops 25% from the highest price it has been since you owned it (known as a trailing stop loss).
So with all those things in mind, you might want to check out Government Properties Income Trust (NASDAQ: GOV) and see if it fits your unique investment needs.
They pay a whopping 9% dividend.  And the business they are in seems to have a good future.  Because the last time I checked, the government was still growing and spending money.
And I don't see that changing anytime soon.
To your health and prosperity – John
P.S. To learn more about getting paid with dividend stocks, and stock-like investments, you may be interested in my latest book Your Future Paychecks And Raises: Get Dividend Checks In Your Mailbox paid to the order of YOU!  You can check it out for free right here at http://a.co/6FwKPdc.