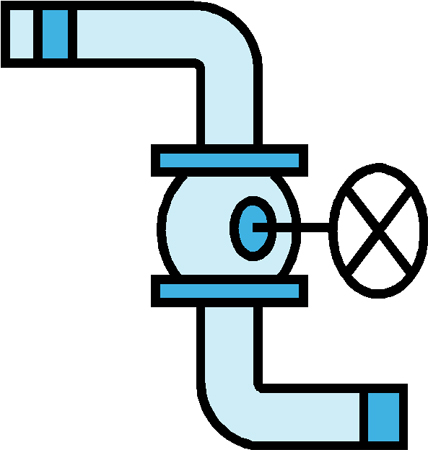 If you're tired of paltry savings account interest, and anemic stock dividends, you'll want to pay attention to this post.  Because I'm going to tell you about a type of stock-like investment that pays some of the richest dividends out there.
As a matter of fact, since 2003, they have been the best performing asset class in the world.  And I'm also going to tell you the name of one of these I've had great investing success with since 2009.
I'm talking about Master Limited Partnerships, also known as MLP's.
Now don't let the name throw you.  While they are structured differently than stocks in corporations, for our purposes they trade just like stocks.  By that I mean they have a stock exchange symbol, just like a stock, and you can buy and sell them in seconds – again, just like any stock.
To illustrate this, let's look at a traditional stock first.  For example, take Microsoft, a company and stock many are familiar with.  It has a stock symbol of MSFT.  So if you want to buy shares of Microsoft, you just enter the order in your trading account to buy, let's say, 50 shares of MSFT.  And the order executes in seconds and you are the proud owner of 50 shares of Microsoft stock.
MLP's trade exactly the same way.
So now we know that trading MLP's is easy.  But here's where it really gets good.
MLP's get special treatment from the government.  The government will not tax them IF they distribute at least 90% of their dividends to the owners like you and me.
Wow.  That's some kind of advantage, isn't it?
So why does the government do this?  Because MLP's are associated with energy and natural resources and the government wants to encourage this type of resource development.
Which leads us to one of my favorite MLP's I promised I'd tell you about.  It's a company called Markwest Energy Partners, symbol MWE.  Markwest is in the natural gas pipeline business, i.e. they own a lot of natural gas pipelines.  And for every thousand cubic feet of natural gas that flows through their pipelines, they charge a fee.  Day in, day out, they get paid as other companies use their pipelines to move their natural gas to market.
And natural gas has a bright and growing future here in the United States.  Indeed, in the past five years, we have discovered so much of the stuff we are often referred to as the Saudi Arabia of natural gas.  With our new fracking techniques, we are discovering so much recoverable natural gas, and oil, we are on track to end our Middle East energy dependence in the future.
Markwest has a pretty consistent record of increasing its dividends.  And during the crash of 2009, they kept their dividend the same and did not decrease it – which is saying a lot.  As of this writing they are paying over a 6% dividend.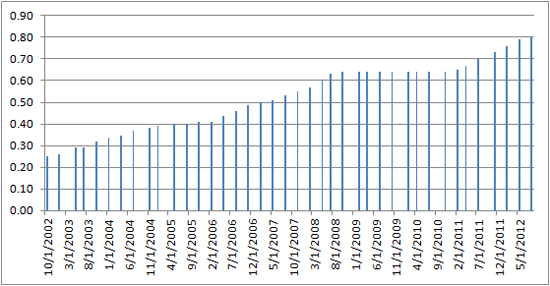 MWE Quarterly Dividends – Cents Per Share
Markwest is one of the best investment successes I've had because I bought them at the bottom of the 2009 crash at a very cheap price.  Based on my purchase price, they have paid me a 20% dividend, and the stock has gone up 280%.
So what's the downside?   Well, you should also note that MLP's are treated differently on your income tax with some fairly complicated rules.  But I let my tax man deal with that.  And I've not seen any big bad tax effect using them.  Certainly nothing that outweighs the returns I've made.
Also, unlike corporate stocks, of which there are thousands, there aren't many MLP's to choose from.  I recently counted just 79 of them on one list.  That said, I don't see any significant downside for investing in them.
Which is why I'm invested in a number of them.
So the next time you hear the major newscasters getting all jazzed about exciting stocks like Apple, or Facebook's IPO, take a deep breath and think about something boring like natural gas pipelines and Master Limited Partnerships.
Because natural gas and pipeline use isn't going away anytime soon.  And barring some real market disruption, neither are the dividends.
I really like MLP's.  I wish there were more of them.
To your health and prosperity – John
P.S. Please note that this post and information is for educational purposes only and not to be considered investment advice.  Use at your own risk.  Refer to Disclaimer Tab on the web site.