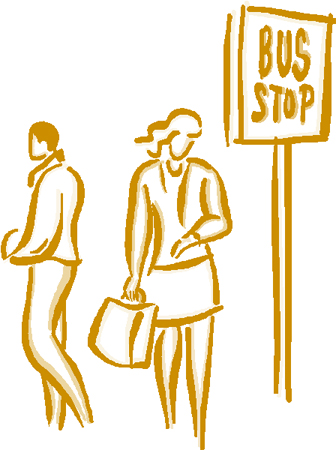 We said in the earlier post about the Cool Mindset that the most critical part of buying stocks at a discount is to have the right mindset.  And I admitted that may sound like a bunch of psycho-babble at first, but I'm sure you started to get the picture on just how important this is.
And here's the other mindset you will want to use.  I call it the Bus Stop Mindset.
It can keep you from rushing out to buy a stock because you just heard an exciting story and you just can't wait to buy the stock.  It will reset your mental focus.
So why do I call it the Bus Stop Mindset?
Because stock investment opportunities are like waiting at a bus stop.  If you miss the bus, another one will come around in five minutes.  So what's the rush?  There are almost always investment opportunities.  Even when the market is down.  Many times, especially when the market is down.
True, you may miss a stock opportunity or two that goes on up from the inflated price you wanted to buy it at.  But quite often, when you rush to buy a stock at a high price in frenzy with everyone else, what does it do?
The price goes down.  And you lose money.  Does this have a familiar ring to it?
So adjust your thinking to this.  You will only buy quality stocks when you can get them at a discount.  And I'll show you two methods I constantly use that will help you do so.
Believe me, they work quite often.  As I said before, I often get them at a discount and wish I had gone for a bigger discount.
So keep the bus stop image fresh in your mind.  Because if you miss this bus (stock opportunity), another will come around in five minutes.
To your health and prosperity – John