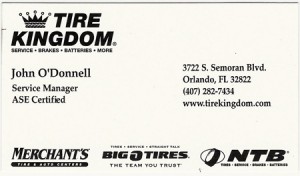 If you're looking for great service and auto repair in the Orlando area, look no further than John's Tire Kingdom.
Good service is hard to find, and when I see it I like to recognize it and pass it on.
John and his ace mechanics just solved and fixed a tricky cold start / idle problem with my car.  They stuck with the problem, traced it down, fixed it and gave me a great price to boot.  Once again they demonstrated that they believe in keeping their business competitive one satisfied customer at a time.  They represent the Tire Kingdom business well.
So the next time you need an auto repair, or new tires, check out the nearest Tire Kingdom (I've had good experience with them in the St. Louis region as well).
And if you're in the Orlando area, give John O'Donnell a call, and tell him a satisfied customer John Roberts sent you.
To your health and prosperity – John Roberts
P.S. You'll want to check out my earlier post about Tire Kingdom in Orlando, where they litterally saved me $1300.  You can read about it here … http://livelearnandprosper.com/i-found-an-honest-mechanic-in-orlando-no-really